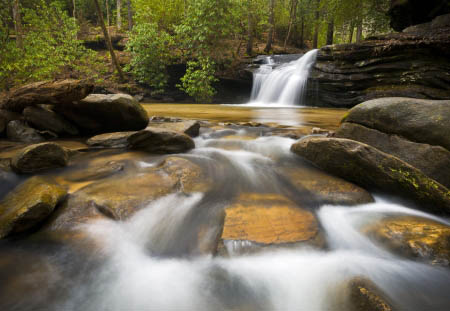 Living in North Carolina's South Mountains
If you're looking for a quiet mountain retreat with incredible views and surprising accessibility, North Carolina's South Mountains are the perfect place to live.
Often overlooked for the more well-known Smoky Mountains and nearby Blue Ridge Mountains, the South Mountains are isolated peaks separated from the Blue Ridge by the Catawba River Valley. The South Mountains cover about 100,000 acres, with 40,000 of those preserved as part of the South Mountains State Park and Game Lands. The highest peak, Buzzard Roost, has an elevation of 3,000 feet and these densely wooded mountains remain largely undeveloped with pristine streams and even an 80 foot waterfall.
Feel Remote, but Live Close to Everything in the South Mountains
The South Mountains are a small mountain range, and as such they feel remote but are actually quite close to medical centers, shopping, cultural activities, and more.
Nearby cities include Asheville to the south and Morganton to the north. Asheville is home to the Biltmore Estate and a booming tourism industry that has attracted cultural events and world-class restaurants and shopping. Asheville is also known for a vibrant arts scene, a growing craft beer industry, and its spectacular climate. Only a short drive from the South Mountains, Asheville makes a wonderful place to while away an afternoon.
Easy access to state-of-the-art medical facilities is another part of the appeal of property in the South Mountains, and Asheville even has a VA Medical Center. Though properties in the South Mountains feel peaceful and removed from the hustle and bustle of modern life, they are actually the perfect blend of remote accessibility.
Discover your new North Carolina property >>