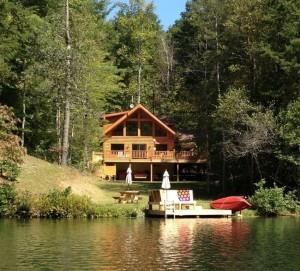 Turn-Key Construction on Land in Western NC
What is Turn-Key Construction & Why Buy a Turn-Key Property?
Have you been wondering, what is turn-key construction? Well, turn-key is really just a realtor term meaning move-in ready. And who doesn't want a move-in ready home?
Turn-key construction is a slightly more specific term that means your custom-built home will be move-in ready when it's finished. From the foundation to the roof to the cabinets and the finishes – the builder takes care of all aspects of the work required to make your new home ready for you to move in when you decide to build a turn-key home.
So what's the big deal with turn-key construction?
Often we're hearing the term turn-key construction in relation to log home construction or modular home construction. And, in many ways, a turn-key construction is similar to both – your builder is going to have blueprints ready for you to choose from and customize, making the entire homebuilding process faster and more reliable.
But customized turn-key construction with a group like our partners the Powell Group or World Outdoors is so much more than choosing a modular home or log home that would be "fine". You will work with the architects to transform the basic design into your ideal mountain home on breathtaking properties with Blue Ridge views.
Learn more about the turn-key home you could build on land in Western NC's South Mountains>>